See on Scoop.it – Food and Drink multinationals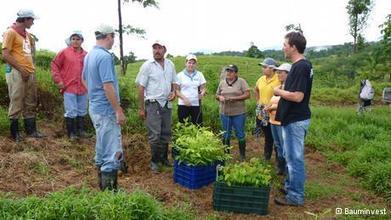 Leo Pröstler heads an investment fund that has set up a reforestation project in Costa Rica with tropical wood. He tells Global Ideas why the model makes good business sense as well as helps restore the environment.
***
How does BaumInvest work?
Individuals or companies invest money for a 24-year time period, and we use those funds to purchase former pastures and coconut plantations in northern Costa Rica and reforest them. We plant teak, mahagony, roble coral, cebo, almendro and other indigenous tree species. When they mature, we sell their wood and return investors' money with yield.
***
What about the investors? Are they drawn in by the 6.3 percent return on their investment? Or because they believe in the cause? Isn't there a bit of greenwashing for the soul going on here?
The investors place their money with us because they trust us. Almost all of them are driven to invest because of ecological or social motives. There are many who want to show their children that money can change things, but that it takes patience: This project will run for generations. My son Stefan is coordinating the reforestation projects in Costa Rica and has made that his goal for the next 30 years. He now has a son too who is growing up there.
***
One more question on the return on investment: I get two percent interest on my bank account right now. I'd be pretty skeptical if you promised me six percent….
Well, there are plenty of other forest investment projects that promise a return of nine to twelve percent. These numbers are based on the estimated increase in wood prices, among other things. We had to provide the Federal Financial Supervisory Authority, or BaFin, with a very specific calculation for the coming 24 years. Other timber funds are unrealistic with their predictions of how wood prices will climb, forecasting six percent – but we stuck to just two percent. That might be unrealistic too, and in that case we'll have to send our wood to Vietnam where it can be processed cheaply – even if I want to avoid that scenario. But maybe it'll be different, maybe there will be legislation at some point prohibiting people from cutting down wild teak. Then we'd be in a unique position with our plantations.
All those uncertainties make the whole thing risky for investors but they are aware of that. All in all, though, you have to see that we have come a long, long way from when we first started out at BaumInvest planting monocultures. I'm not a specialist in forestry, and maybe that's why it was easier for me to do things with our tree nurseries that other people called impossible. The same goes for the local farmers – in the beginning, they thought we were crazy and didn't take us seriously. Now they say it rains more, thanks to the trees we planted.
Akilade Ayotunde's insight:
An ecological planter, an enlightened 'despot', a philosopher 'king', call him what you will, he is the avant garde……..
See on www.dw.de